Take a moment to count up just how many times you need kettle hot water in the kitchen. When you're looking forward to a nice cup of tea or coffee, when you want pasta in tomato sauce in an instant, for blanching vegetables etc.
With GROHE Red®, you can draw filtered kettle water directly from the tap without having to wait. Up to three litres. Simple. Economical. WRAS approved for all installations and with a 5 year guarantee for ultimate peace of mind.
---
GROHE Red® Safety Features
GROHE CoolTouch®
GROHE CoolTouch® technology insulates the tap so well that you can touch it without any risk at all. Even for those little fingers that sometimes touch things they shouldn't. Our engineers have found a solution to childhood curiosity and grown-up absentmindedness.
GROHE ChildLock
ChildLock does not rule out the possibility of scalding from kettle hot water, but it does make it practically impossible: for the kettle hot water to flow, you need to first pull and then turn the left handle.
The child-friendliness of the fitting has been independently tested and certified.
---
GROHE Red®

pays off - for you and the environment.

GROHE Red® proves that convenience and environmental awareness do not have to be mutually exclusive. In contrast to a water boiler or boiling water on a hob, with our innovation you only heat as much water as you need. This saves water, energy and even costs.
---
GROHE Blue®
Chilled & Sparkling Tap
Ultimate Refreshment
Every day, we all benefit from and enjoy the luxury of drinking water straight from the tap. Most of us are happy using it for cooking and making cups of tea and coffee, but when it comes to drinking a glass of water, we are often put off by the taste and reach for a bottle of mineral water. Hardly convenient and not exactly sustainable either. Invest in a GROHE Blue® water system and you'll have instant access to a constant supply of freshly-filtered, great-tasting water.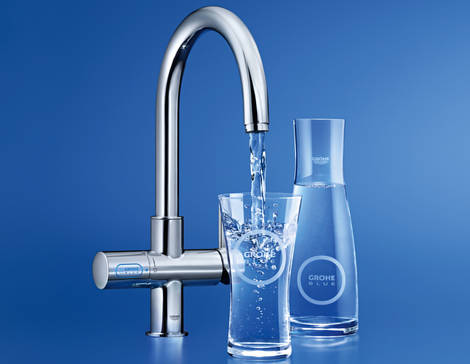 GROHE Blue® Chilled & Sparkling combines the modern look of a designer tap mixer with a high-performance filter, cooler and carbonator – and is as easy to use as an ordinary kitchen tap. The right lever on the tap is used to mix hot and cold tap water as usual. The left rotary knob with integrated coloured LED display regulates the carbonic acid content of the filtered and cooled water.

Finished in GROHE StarLight® chrome, the tap has separate internal waterways – one for filtered water and the other for unfiltered water.
Refreshingly Simple
The unique GROHE Blue® water systems deliver fresh, great-tasting filtered water from the convenience of your kitchen tap whenever you want it – 24 hours a day, 7 days a week. An LED display on the tap handle indicates when the water filter needs to be changed. The light flashes when the filter capacity is less than 10%. The filter lasts up to 12 months, has a capacity of 600 litres and can be adjusted to the hardness of the water.

Two separate internal waterways – one for filtered water and the other for unfiltered water – and an innovative mousseur ensure that once the water has been filtered it never comes into contact with anything that may taint its taste.
Operation and Carbonation
Fresh, cooled water can be yours from the fitting with a single turn of the left handle of the GROHE Blue®. The first setting does not add any carbonic acid, the second setting adds just a little carbonic acid and the third setting adds more carbonic acid.

The carbonator integrated in the built-in box adds especially fine bubbles of carbonic acid to the filtered and cooled water to produce lightly sparkling or sparkling water according to taste.

The water temperature can also be set to your personal taste: the cooling can be individually regulated between 4 °C and 10 °C.
*GROHE Blue® systems now available from stock, please call the sales team today for more information or email sales@modernplant.ie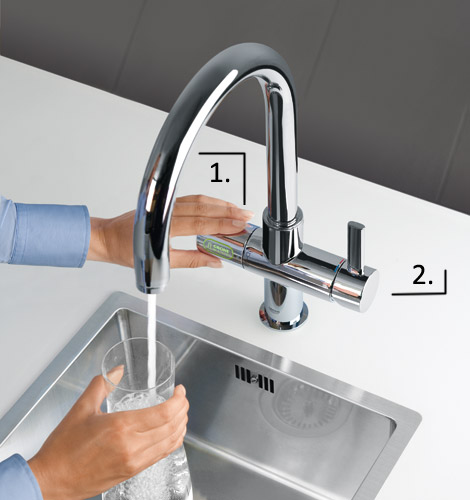 Handling and internal waterways
GROHE Blue® filtered water

Unfiltered mixed water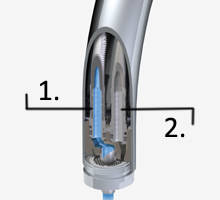 GROHE Blue® & BWT
The most precious resource in the safest hands

Water is not only the world's most precious resource, but also the basis of all living things. GROHE and BWT, Europe's leading water professionals, represent safety, hygiene and the highest quality standards. We have combined the expertise of our two companies to deliver a completely new water experience.

Tap water is now transformed into pure refreshment, using the innovative GROHE Blue® product range. GROHE Blue® filters the water with technology supplied by BWT and then cools it down to the ideal temperature for you to enjoy, providing still water with fine bubbles or effervescent, sparkling water straight from the tap. BWT's global innovation offers all water gourmets a refreshing tasting water, filtered by BWT's unique, patented Mg2+ technology and enriched with magnesium. Just perfect for your everyday drinking indulgence.
---
For more information about GROHE Red® & GROHE Blue® please call us on 01 4614300 or email one of the sales team at
enquiries@modernplant.ie
or visit us at the trade counter on the Naas Road in Dublin.